"The Lost Treasure of Herz Der Sonne" is the fourth episode in Season 3 of Rapunzel's Tangled Adventure and the forty-sixth overall. It first aired on October 10, 2019 to 0.30 million viewers.[1]
Synopsis
After discovering a map to a mythical treasure, Rapunzel believes that holding a race to claim it will be just the pick-me-up the people of Corona need.[2]
Plot
Rapunzel and the citizens of Corona, including Varian, Xavier, Kiera, Catalina, Monty, Feldspar, and the pub thugs; planned to rebuild the throne room, which was damaged during the battle with the Saporians. Unfortunately, everyone soon started to argue with each other. During which, they broke a wall open, revealing a hidden map to a mythical treasure. This gave Rapunzel an idea of holding a race to claim it, hoping it will be just the pick-me-up the people of Corona need.
With a bingo-inspired machine she made, Rapunzel have the racers partnered up with someone. Soon, the race began and it was off to a good start. But soon, some of the racers, including Rapunzel, became annoyed by their assigned partners.
But when Feldspar, who turned out to be able to read Saporian, revealed the map's warning of a curse, he and Rapunzel zoomed ahead of the others in attempt to save them. The citizens didn't believe them and accuse them of cheating at first, but when Eugene and Lance unwittingly unleashed the curse by opening the treasure chest, they found themselves surrounded by mummies and in a panic. But thanks to Rapunzel's encouragement, they fought back and undo the curse. The experience brought them closer together as fellow citizens of Corona and they soon finish rebuilding the throne room. Old Lady Crowley was left behind.
Characters
Main
Elements
Powerful Magical Objects
Locations
Kingdoms and Realms
Places
Trivia
Gallery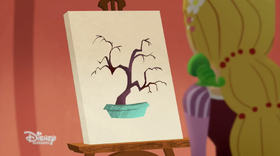 Click here to view the gallery for this article.
References
Community content is available under
CC-BY-SA
unless otherwise noted.