"The King and Queen of Hearts" is the eighth episode in Season 3 of Rapunzel's Tangled Adventure and the fiftieth overall. It first aired on October 16, 2019 to 0.23 million viewers.[1]
Synopsis
Rapunzel finds that her parents' memory loss has made them forget how they fell in love; things get complicated when King Trevor tries to steal the Queen's heart.[2]
Plot
Rapunzel continues to try and restore the memories of her parents, King Frederic and Queen Arianna, and hopes to use the journal of Herz Der Sonne to remind them, but they do not understand the significance. Ariana still lusts for adventure while Frederic cannot get over his obsession of egg collecting. Rapunzel recruits Eugene, Lance, Kiera, Catalina and Maximus to try and set up the perfect date for them and while they cannot find anything in common personality wise, they share a mutual love for Rapunzel. However, King Trevor arrives with the intent to woo Ariana using an ocean crystal he found. Despite Rapunzel's attempts to keep him away, he manages to convince Ariana to join him in watching the sea serpents. Rapunzel realizes that the ocean is lawless and Trevor will attempt to marry Arianna out there. Rapunzel and her friends manage to catch up, but Trevor sends his "navy seal team" to attack them. Arianna fights back and tries to rescue Rapunzel, Frederic and their friends from a sea serpent. Eventually, Frederic realizes that the ocean crystal is, in fact, a sea serpent egg and gives it back. Trevor, who gives up after seeing how much Frederic and Arianna care for each other, gives back the journal that he stole, but it is water logged. Rapunzel makes a new journal that she and Eugene sign and Frederic and Arianna both begin to remember their lives when they were young.
Characters
Main
Minor
Locations
Kingdoms and Realms
Places
Elements
Ordinary Objects
Strong Magical Artifacts
Trivia
Gallery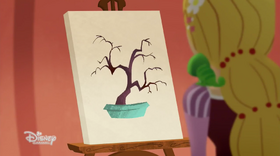 Click here to view the gallery for this article.
References
Community content is available under
CC-BY-SA
unless otherwise noted.