The Eternal Tower is a magic-tower in the series. Tangled: The Series and is located in the outskirts of Corona. This is a special tower that Sugarby the Eternal used to awaken her master, Zhan Tiri; however failed doing so with the help of Rapunzel, Eugene and Cassandra.
Appearance
The Eternal Tower is located on a mountain near Point Janus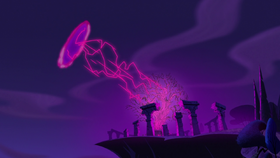 and is where Sugarby's previous prison was located.
The Eternal Tree stands in the podium of the Eternel Tower.
The outside is mainly dark-purple, and glows green whenever Zhan Tiri is awoken.
Visitors
Trivia
There are 5 people required and needing to draw the same tree.
Gallery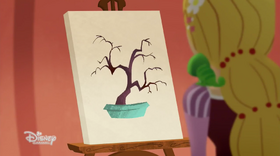 Click here to view the gallery for this article.
References