The Brother's Hook is the thirty-sixth episode in Season 2 of Tangled: the Series. It premiered on March 24, 2019, and is the fifteenth episode in the second season.
Synopsis
To lift everyone's spirits, Rapunzel takes her companions to Hook Hand's concert, but the reunion of the Hook brothers awakens elusive memories in Hook Foot.
Plot
Rapunzel takes everyone to see Hook Hand in concert. However, this brings back bad memories in Hook Foot, as he was always overshadowed and looked down on by his elder brother. Hook Hand is revealed to be employed by the self-centered King Trevor who wants Hook Hand to perform at the wedding ceremony between the royal Seal of Equis: Trevor Jr. and his female mate: Luseal. Hook Foot finally fulfills his childhood dream of dancing by humiliating King Trevor in a dance-off, which he wins with the female seal as the judge. This finally brings Hook Hand to accept his younger brother's dreams and allows him to accompany him on the road.
Cast
Trivia
This title is likely a parody of the term 'the Brothers Grimm', two fairy tale authors from 19th century Germany.
Hook Hand makes his first appearance during the series.
Along with his brother, Hook Foot leaves the group after this episode.
This episode marks the second appearance of King Trevor after his debut during the episode In Like Flynn.
Inside Hook Hand's caravan we see Gunther's skull/flower arrangement and his sad puppy painting from the I Have A Dream scene of the movie Tangled.
This is the second episode of the series that Rapunzel plays guitar after There's Something About Hook Foot.
Hook Hand's outfit and his golden hook are the same as what he wears during the short movie Tangled Ever After.
Gallery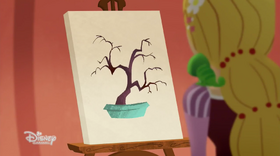 Click here to view the gallery for this article.
References