"Return of the King" is the third episode in Season 3 of Rapunzel's Tangled Adventure and forty-fourth overall. It first aired on October 8, 2019.
Synopsis
King Edmund arrives in Corona to give his son, Eugene, a family heirloom; when the heirloom is stolen, Eugene reluctantly joins his father on a journey to retrieve it.[1]
Plot
King Edmund arrives in Corona to see his long-lost son, Eugene, and to give him the royal sash of their bloodline. Eugene wants nothing to do with him, but Rapunzel invites him to stay. Later, the sash is stolen and a ransom note is left behind. Edmund and Eugene decide to go and retrieve it. Their quest begins to feel more like an outing as King Edmund reveals that Eugene's given name is Horace, which he deeply expresses his chagrin.
Meanwhile, the Stabbington Brothers plot revenge on Eugene as they are both viewed as a joke by the other criminals. They manage to locate him through the royal guards and Rapunzel takes off to warn them. Eugene and Edmund manage to fight off the Stabbington brothers, but then Eugene discovers that Edmund took the sash himself so that they can bond. The Stabbingtons abduct King Edmund, and Eugene and Rapunzel rescue him from a log flume. The royal sash gets destroyed in the attempt but King Edmund, with help from Xavier, creates a new one for Eugene and they make up. Elsewhere, Cassandra tries to use her newfound Moonstone powers when she begins to hear a female voice softy saying her name; that of the Enchanted Girl, who had showed her everything of her girlhood past and abandonment by the unloving Gothel, and her drive to attain the Moonstone Opal for herself.
Characters
Main
Minor
Locations
Kingdom and Realm
Places
Elements
Strong Magical Objects
Objects
Trivia
Gallery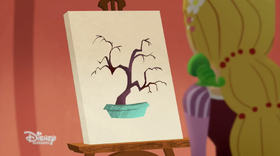 Click here to view the gallery for this article.
References
Community content is available under
CC-BY-SA
unless otherwise noted.