"Race to the Spire" is fourteenth episode in Season 3 of Rapunzel's Tangled Adventure and the fifty-sixth overall. It first aired on February 2, 2020 to 0.33 million viewers.[1]
Synopsis
Rapunzel, Eugene and an old acquaintance, Calliope, race to the Spire in an attempt to stop Cassandra from acquiring a deadly weapon.[2]
Plot
Cassandra returns to the Spire to steal the Mind Trap from Calliope. Calliope sends a letter to Rapunzel for help and she and Eugene set out by hot air balloon. They pass through the frozen tundra of Krestin Lock where they are shot down and reunite with Calliope who claims to have escaped. They battle their way through the fish like natives, but Rapunzel rescues a couple as they leave. They arrive at the Spire where "Calliope" asks for the key to unlock the chest containing the Mind Trap, but Rapunzel sees through the ruse; Cassandra reveals herself and "Calliope" is Zhan Tiri in disguise.
They fight over the Mind Trap Stone, but when Zhan Tiri threatens Calliope again, an overly compassionate Rapunzel gives the Mind Trap to Cassandra. Before leaving the Spire, the Enchanted Girl reveals herself as Zhan Tiri to Rapunzel and tells her that she has been using Cassandra and threatens Corona yet again with an inevitable eclipse. Cassandra returns to her tower and activates the Mind Trap; brainwashing Hector, Adira and Quirin.
Characters
Main
Minor
Trivia
Elements
Places
Objects of Immense Power
Objects
Gallery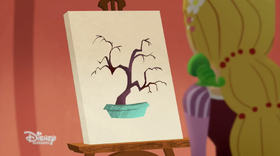 Click here to view the gallery for this article.
References
Community content is available under
CC-BY-SA
unless otherwise noted.