Monty's Sweet Shoppe is a sweet shop in the series, Tangled: The Series and is located in Corona.
The current owner of the shop and the titular character of the shop is Monty.
Appearance
The shop has a balance of blue and pink, with a colorful sign naming the shop's name.
History
In the episode, One Angry Princess, the Sweet Shoppe is destroyed by Milson the goat. Monty had been planning on remodeling anyway and took advantage of the situation to do so. After the remodel, Monty's Sweet Shoppe forms a business partnership with Atilla's own bakery, Atilla the Bun. The Sweet Shoppe provides the sweets and the bakery provides the pastries.
Trivia
Gallery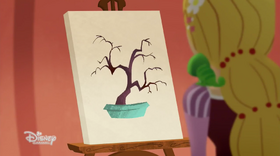 Click here to view the gallery for this article.
References