King Herz Der Sonne's journal is a journal that belonged to one of Corona's past kings, King Herz Der Sonne.
Background
The journal holds Corona's secrets that were made in Der Sonne's time, as well as acts as a map to the underground tunnel system, that were placed under the kingdom during its time of war with Saporia. It also holds the king's feelings of love towards the leader of Saporia, General Shampanier. When she saw his confusion in the journal, during their battle, Shampanier realized that she felt the same way towards the King of Corona. This is why it plays a part in a Coronaian holiday that celibrates the ending of the war and the merging of the two kingdoms when Der Sonne and Shampanier married each other, which would forever be known as the "Day of Hearts", where couples would write their names in the journal when it is displayed to the public.
Because of the secrets that it holds, the Separatists of Saporia had tried to get their hands on it. One of the separatist members, Andrew, had used the Day of Hearts holiday as an opportunity to steal it by building up a fake relationship with Cassandra, who was onto him from the start. Despite getting his hands on it and was now on his way back to Saporia so they could use the kingdom's secrets to plan an attack on Corona, Cassandra, Rapunzel, and Eugene stopped him and brought the journal back to the castle.
When Rapunzel and Varian agreed to steal the Sun drop flower in The Alchemist Returns, they used the map within the journal to help them find their way around the Der Sonne's tunnels so they could break into the vault, that's where the flower is held in, from beneath.
After word spreads that King Fredrick and Queen Arianna are struggling in finding ways to love each other, King Trevor takes the opportunity to win Arianna's heart and get her to sign the book with him. It eventually falls apart after getting dropped in the ocean, so Rapunzel finds a new book of hearts.
Trivia
In the opening of ''Under Raps'', the journal was featured as a pop-up book as it told the origin story of the Day of Hearts and how love ended the war between Corona and Saporia.
Gallery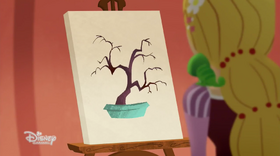 Click here to view the gallery for this article.