"Islands Apart" is the twelfth episode in the third season of Rapunzel's Tangled Adventure and the fifty-fourth overall. It first aired on January 19, 2020 to 0.30 million viewers.[1]
Plot
After receiving a message from Owl, Rapunzel and Eugene travel back to the island of the Lorbs, where they reconnect with the Captain of the Guard.[2]
Characters
Major
Minor
Elements
Places
Objects of Immense Power
Objects
Trivia
The title is a play on World's Apart.
Rapunzel and the Captain of the Guard made a reference to Rapunzel's Return when Rapunzel, Pascal, Eugene, Lance, Maximus, Fidella and Shorty traveled back to Corona alongside Ulf after Varian teamed up with Andrew and the Saporians to take over Corona and erased the minds of King Frederic and Queen Arianna with the Wand of Oblivium.
Lance, Varian, Angry and Red, and Maximus did not appear in this episode.
The way one of the fake Cassandras say that The Captain of the Guards will pay for his wish in this episode is similar to the way Andrew said Traitors to Saporia pay with their lives when he grabbed Varian to throw him off the ship in Rapunzel's Return and it is similar to the way Varian said Well, I'm afraid Corona will pay for turning their backs on me in Secret of the Sun Drop and it is also similar to the way King Frederic said to Rapunzel about Varian: That boy is dangerous. I assure you he will pay dearly.
There are several references from Rapunzel and Eugene's time on Terpai Island.

Eugene mentions the firefly from "King Pascal".
Eugene also mentions the Vodniks from "There's Something About Hook Foot"
When the Captain is dancing, it is similiar to Lance and Hook Foot's dancing in "Happiness Is...".
Rapunzel, Eugene and Alfons all make a reference to the Lorbs' dark magic, including the Idol of Vershaftsbezeigungengien from "Happiness Is...".
Gallery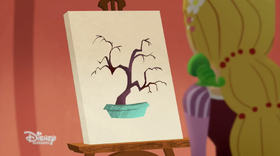 Click here to view the gallery for this article.
References