In Like Flynn is the seventh episode of the Disney Channel animated series, Tangled: The Series. It premiered on July 23, 2017.
Overview
In order to prank a rival monarch, King Frederic recruits Eugene to help pull off a scheme.
Plot
Eugene is worried that King Frederic does not take him seriously, and becomes desperate to prove himself. He gets his chance when Frederic's statue is discovered vandalized by his old time rival, King Trevor. Frederic enlists Eugene for help in his plot to get back at Trevor by stealing the Royal Seal of Equis. Meanwhile, Rapunzel tries to pull off a prank, but all her attempts turn out as sweet generous surprises rather than humiliating jokes.
Eugene and the King succeed in breaking into the chamber where the Seal of Equis is kept, which turns out to be an actual Seal. However, when they try to steal it, they get caught by Trevor's guards and taken to the dungeons where they will stay until Trevor makes preparations to have Frederic parade through town in nothing but a jester's hat before sending him back to Corona. However, Eugene and Frederic manage to escape from their cell by tricking the guards and stealing their uniforms. Frederic finally gets his own back when he and Eugene trick Trevor into falling through one of his own trapdoors. Then before returning to Corona, they leave Trevor up to his statue wearing only his underwear and a jester's hat. Around his neck he has as sign that reads "Corona Rules!" The episode then ends with the seal of Equis swimming free in the sea.
Cast
Main Cast
Gallery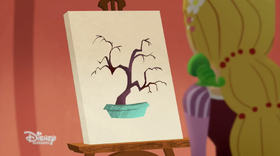 Click here to view the gallery for this article.
Transcript
For a full transcript of "In Like Flynn", click here.
References
Community content is available under
CC-BY-SA
unless otherwise noted.