Friedborg is a handmaid who appears in "Tangled: The Series." Friedborg is notably known for her disfigured face, and is occasionally mistaken for Cassandra in the castle.
History
She first appeared in "Cassandra v. Eugene", when Rapunzel mistook her for Cassandra. Rapunzel spoke awkwardly with her, and Friedborg made no replies except displaying a creepy smile showing a huge gab between her front teeth. She again appears in "Under Raps", when she joined Rapunzel for a "ladies lunch" arranged for Cassandra.
In "The Way of the Willow", she gets reacquainted with Queen Arianna's sister, Willow. It is hinted by Willow that she and Friedborg used to get into a lot of trouble when they were young.
In "Painter's Block", she attends an art class that was orchestrated by an evil spirit who was disguised as an old woman, so she could use Friedborg and her classmates to preform a spell that would free her master before Rapunzel freed them from her control.
Appearances
Season One
Cassandra v Eugene
Under Raps
Way of the Willow
Painter's Block
Secret of the Sun Drop
Season Two
Season Three
Rapunzel's Return
Cassandra's Revenge
Plus Est En Vous
Trivia
Friedborg is allergic to lizards, so she cannot get along with Pascal.
Friedborg has never spoken and does not even have a voice actor.
Gallery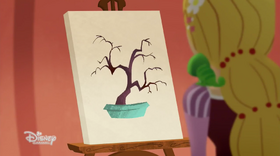 Click here to view the gallery for this article.
References