"Flynnpostor" is the seventeenth episode in the third season of Rapunzel's Tangled Adventure and the fifty-eighth overall. It first aired on February 16, 2020 to 0.40 million viewers.[1]
Synopsis
Eugene must track down and confront a thief who has stolen his former identity, Flynn Rider.[2]
Plot
After a nightmare of confronting Cassandra, the Captain of the Guards realizes that he cannot face off against his daughter. So with a heavy heart, decides to retire from his position as Captain of the Guards and makes Eugene his successor. He has seen how much Eugene has changed over the years and sees him as the perfect man for the job and so does everyone else. All except Eugene, who does not seem sure about accepting the position and needs time to think about it. However, his time to think it over is interrupted when a thief who has taken his former identity, Flynn Rider, has stolen Rapunzel's tiara. Unable to think of anything else and feeling insanely upset and jealous, Eugene sets out with Rapunzel, Pascal and Maximus to find the new Flynn Rider and confront him while appointing Lance as temporary Captain until he returns.
In no time, Eugene and the others find the imposter and quickly capture him, but unknown to them, they are secretly being followed by a mysterious figure who turns out to be the Baron. Turns out he has been through rough times since their last encounter. He has lost everything in his life and now sets out to seek revenge against Eugene, blaming him for his misfortune, but he kidnaps the impostor instead. Pretty soon, Eugene finds himself captured by the Baron as well. When it looks like he and the fake Flynn are going to die, Flynn apologies and admits he was inspired by Eugene's former life and reputation. He wanted that for himself, believing his life as Brock Thunderstrike meant nothing. Brock manages to escape thanks to Eugene, but leaves Eugene until Pascal comes and saves him from drowning. However, Brock returns and saves Eugene from the Baron after a change of heart. Afterwards, Eugene makes his peace with Brock, has the Baron thrown in jail and decides to accept the honor of being Corona's next Captain of the Guard.
Characters
Major
Minor
Locations
Objects
Objects of Immense Power
Quotes
(In a nightmare)
Trivia
Gallery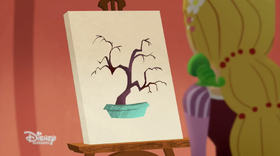 Click here to view the gallery for this article.
References
Community content is available under
CC-BY-SA
unless otherwise noted.