Fernanda Pizazzo is a female Inventor that appears in Tangled: The Series.
History
Fernanda first appeared in the episode Great Expotations, as one of the inventors taking part of Corona's science fair. As she presents her creation to spectators, she unabashedly expresses her confidence that the fair's judge, Dr. Croix, will award her the winning prize by the end. Though her invention doesn't compare to the others, such as those created by Rapunzel or Varian, she wins by a landslide, as Croix is apparently more interested in a flashy display, rather than breaking new ground in the scientific field.
Trivia
Judging by her comments, she appears to find Dr. Croix physically attractive.
Fernanda resembles a fortune teller character present in early concepts of the movie.
Gallery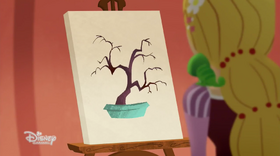 Click here to view the gallery for this article.
References