Cassandra v. Eugene is the fifth episode of the first season of Tangled: The Series. It premiered on April 21, 2017.[1]
Synopsis
Rapunzel is tired of the constant bickering between Cassandra and Eugene and decides to send them off on a scavenger hunt in hopes it will be a bonding experience.
Plot
For a full plot of "Cassandra v. Eugene", click here.
Transcript
For a full transcript of "Cassandra v. Eugene", click

here

.
Cast
Trivia
Cassandra is revealed to be the Captain of the Guards' adoptive daughter and has no recollection of her true parentage which foreshadows the third season episode Rapunzel's Return.

Also, Eugene doesn't remember his biological parents. This is the first mention of his father, King Edmund, although Eugene doesn't know he is King Edmund's son which foreshadows the second season finale episode Destinies Collide when he arrived at the Dark Kingdom alongside Rapunzel, Pascal, Cassandra, Lance, Maximus, Fidella and Shorty to meet his biological parent.

This episode marks the first appearance of the Stabbington Brothers after they debuted during the film, Tangled.
.Gallery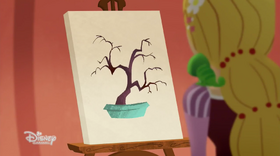 Click here to view the gallery for this article.
References