Beginnings is the seventh episode of the season three of Rapunzel's Tangled Adventure and it is the forty-ninth overall. It first aired on October 15, 2019 to 0.16 million viewers.[1]
Synopsis
As Rapunzel struggles with Cassandra's betrayal, the princess recounts the story of how she and Cassandra first became friends.[2]
Plot
Rapunzel is having trouble picking a new lady-in-waiting. Eugene believes that it is because she still has not gotten over Cassandra, but she stubbornly denies this. Two years prior Cassandra is annoyed at having to work for Rapunzel whose perky personality clashes with her more serious demeanor. Rapunzel wants to befriend her and seizes the opportunity when her parents announce that they are hosting the Contest of Crowns in which all seven kingdoms compete in a series of games. She forces Cassandra to be her partner and she reluctantly obliges. Rapunzel's methods turn out to be disastrous, but after showing off her physical capabilities, Cassandra is offered to join her royal guard, by the Queen of Ingvarr, but she will have to win the final competition where only the top two teams are qualified. Rapunzel ends up ruining everything for her and Cassandra angrily scolds her. She has a change of heart after realizing that neither of them has had much of a history making friends. Rapunzel and Cassandra manage to work their way back to the top until it is just them against the Princesses of Ingvarr. The Queen of Ingvarr reveals to Rapunzel Cassandra's goal, making her feel betrayed. When Cassandra argues that this is an important opportunity for her, Rapunzel agrees that they should focus on winning. They are tasked with grabbing a flag on the back of giant iron lion. After a fierce battle, Cassandra chooses to help Rapunzel over grabbing the flag, but in the process, their friendship blossoms. Back in the present, Rapunzel breaks down to Eugene that she is still thinking of Cassandra and will do anything to get her friend back. At the ruins of the caravan, Cassandra is approached by the Enchanted Girl who reveals that the moonstone is not at full power because when Rapunzel touched the black rocks, part of its protective energy went into her hair. Realizing that Rapunzel is still undermining her, Cassandra angrily rips a painting of her and her former friend.
Characters
Main
Minor
Trivia
Locations
Corona
Elements
Objects of Immense Power
Objects
Gallery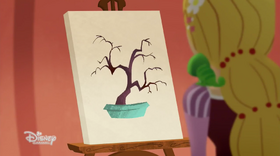 Click here to view the gallery for this article.
References